December 2007
(click here to see end of December 2007 and New Year's Eve)
(Click on images to enlarge)
Things I did this month:
I am an awesome chef... I help Mommy cook dinner every night...
I got my first cooking oweee (I peeled my finger along with the potatoes when I was making latkas)--ouch!
Random Conversations:

Ari (on why I shouldn't have to wait to ask a question): When I have something to say and then I have to wait, I lose my question!
* * *
Mommy: How's your hot cocoa?
Ari: Awesome! It hots my tummy up.
* * *
Ari: Come play with me.
Mommy: Bubba and I are talking.
Ari: How bout I play with Bubba and you talk to yourself.
* * *
Ari (on how his day at school was): I had a super awesome good day! Now can I have a tarantula and a grasshopper?
Ari: Mommy, come see this... mommy, come see this... mommy, come see this (all... day... long... ;-)
Ari (on relationships): Everybody have 3 people... a Mommy... and a Daddy... and a little boy.
Ari (bored): What we can do now?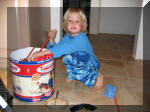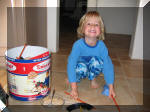 Tinkertoys from the 2nd night of Chanukah!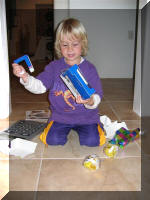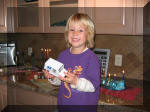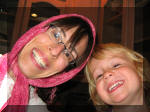 3rd night of Chanukah!
Thank you Bubba and Grandpa Bob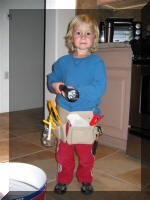 4th night of Chanukah!
Look at me! I'm a construction worker!
Click here for the 2008 picture index
Click here for the 2007 picture index
Click here for Ari's Birth Announcement
Click here for Ari and Steph's Home Page
Email Ari: aribenjamin at comcast dot net
(replace at with @ and dot with .)