October 2007
(Click on images to enlarge)
Things I did this month:
Went on my first school field trip (to the Farmer's Market--only in Santa Fe!)
I love to take pictures (and I take lots and lots and lots of them!)
I can say the whole prayer before meals in Hebrew
ברוך אתה ה' א‑לוהינו מלך העולם, בורא מיני מזונות
Barukh ata Adonai Eloheinu melekh ha‑olam, ha‑motzi lehei min ha‑aretz.
"Blessed are you, Lord, our God, King of the universe, who brings forth bread from the earth."
I get dressed in the morning all by myself while I watch TV--Mommy just lays my clothes out for me.
I figured out how to use Mommy's dictaphone at work all by myself after I saw her use it once--record, rewind, and playback.
I can write the numbers 1 and 2.
Random Conversations:
Mommy: I think we're going to have pizza tonight. Does that sound okay to you?
Ari: Hmmmm (face scrunched up thinking)... Yeah, okay. I'm pretty much into pizza.
* * *
Mommy: How was your day at school?
Ari: It was a SUPER GOOD day (arms raised up overhead)!!
Mommy: I had a super good day too.
Ari: You didn't hit anyone?
Mommy: I didn't hit one single person.
Ari: You didn't yell?
Mommy: Not once.
Ari: How come?
* * *
Ari: If I mix water and milk, what I get?
Mommy: I don't know. What do you get?
Ari: Water and milk.
* * *
Ari (pointing at a man with crutches and only one leg): Look! He has a kickstand.
Mari: Those are crutches to help him walk because he hurt his leg.
Ari: But I don't see a leg.
* * *
Ari: Is she a boy or a girl?
Mari: She's a girl.
Ari: No, she's a gorgeous boy.
Ari (sitting around the table eating dinner watching the sunset): This is a good house.
Ari (playing by himself): Oh man, this is freakin' me out.
Ari: That house is totally cool wicked.
Ari (at dinner): I don't like this kind of dinner.
Ari: I don't know she's name.
Ari (playing by himself and bored): What I supposed to do now?
I don't know what I suppose to do now?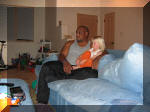 Lazy Sunday watchin' football with Tommy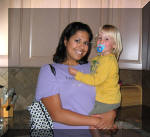 Me and "Mawi"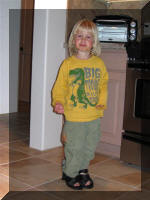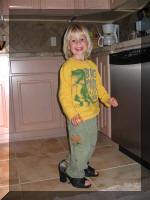 Being silly wearing Mommy's shoes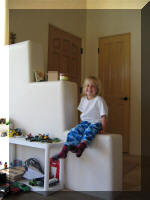 I love my new house!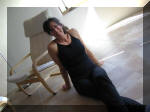 Look! I took a picture of my Mommy!
---
Albuquerque International Balloon Fiesta
What could be better than
watching balloons with a green chile breakfast burrito
and a cup of hot cocoa
at 6am on a chilly Fall morning?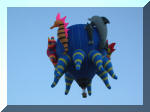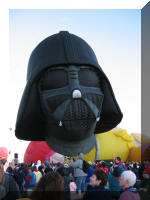 ---
Los Poblanos Farms Corn (and kiddie haystack) Maze
---
HALLOWEEN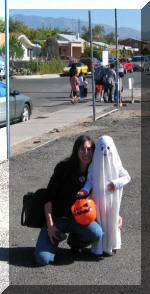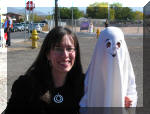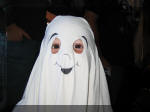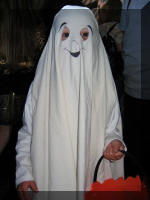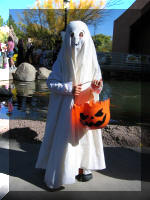 At the ABQ "Zoo Boo"
I was the cutest most adorable ghost ever in the whole wide world!
(at least that's what my Mommy said)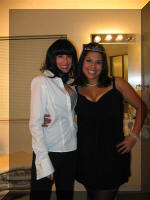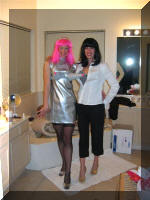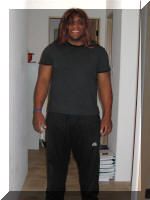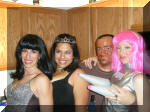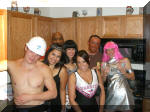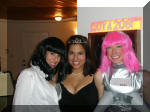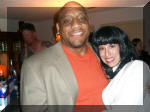 Mommy's Halloween pics
Shannon as Slutbot 2007
Mari as Homecoming Princess
Mommy as Mia Wallace sans hypodermic through heart and Tommy as "hubby" Marcellus Wallace... think Pulp Fiction!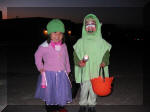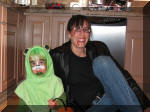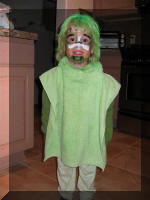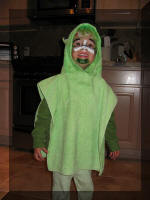 I couldn't see very well in my ghost costume and I wasn't allowed to wear anything scary to my school Halloween Pet Parade
...so I was a frog on Halloween day...
Trick-or-Treating with Princess Hannah (couldn't have planned that combo any better)
---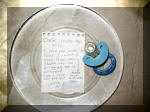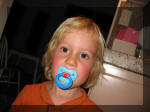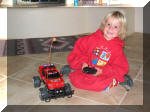 NO MORE SUCKY TOY!!
Left it for the sucky toy fairy in trade for a rockin' cool remote control monster truck!
And a new little baby got my sucky toy.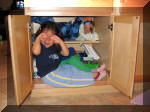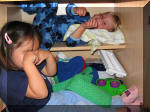 In the cupboard with Hannah!
"No picture! No picture!"
Click here for the 2007 picture index
Click here for Ari's Birth Announcement
Click here for Ari and Steph's Home Page
Email Ari: aribenjamin at comcast dot net
(replace at with @ and dot with .)