October 2006
(Click on images to enlarge)
Things I did this month:
Mommy bought me a baseball bat and I'm learning to play baseball
I can sing "twinkle twinkle little star" and do my "ABC's"
I can pick out a few letters like "S" and "O"
I have quite the temper these days and I hit and spit at people when I'm mad..."that's no good"
I can sing the "Squishing up my baby bumble bee" song (and do all the hand movements with it)
I can hold up 2 fingers and 3 fingers
I can put on my coat (arms through and over my head)
I got a TERRIBLE haircut!

Things I say:
Shana tovah and good yom tov!
I like Jazz music... I want play saxaphone
That's no good
How'd that happen?

Random conversations:
Mommy: What was the best part of your day today?
Ari: I ride red bike... make my face happy
* * *
Mommy (trying to convince Ari to take a bath): I'll take a bath with you
Ari: Yeah... that's a special treat
* * *
Mommy: My toe hurts
Ari: Why?
Mommy: I don't know
Ari: That happens sometimes

---
At the Pumpkin Patch with mommy and Simeon and Simeon's mommy and Simeon's daddy
We went in a corn maze, picked apples, went on a hayride, and picked out pumpkins
---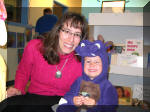 With mommy at the Kindercare Halloween party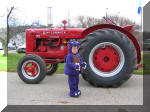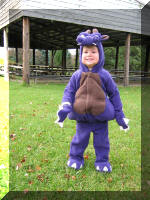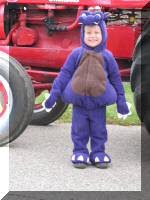 Rochester Historical Society Halloween party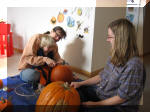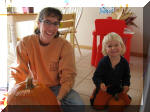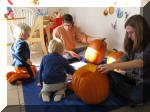 Carving pumpkins with Mommy, Bubba, Simeon and his Mommy and Daddy
---
Happy Halloween!!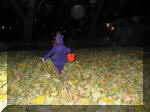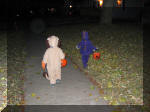 Ari and Simeon Trick-or-treating
Click here for the 2004-2006 picture index
Click here for Ari's Birth Announcement
Click here for Ari and Steph's Home Page
Email Ari: aribenjamin at comcast dot net
(replace at with @ and dot with .)