October 2008
(Click on images to enlarge)
Things I did this month:
I had surgery! I cried a lot and it was really scary... but now I have SUPERMAN teeth!!!
Mommy, Shannon, Hannah, Franklin, and I scored big-time on Halloween!
Random Conversations:
Ari (sitting on potty with tummy-ache after eating B-day cake without eating any lunch): Sometimes I hate myself.
Mommy: Why?
Ari: Because I always don't listen to you.
* * *
Ari (on Bubba's upcoming visit): I want the world to change so Bubba will be here now!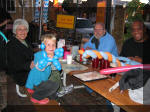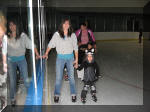 Quick visit by Bubba and Grandpa Bob
Halloween on Ice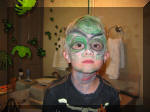 Pre-Halloween
Click here for the 2008 picture index
Click here for Ari's Birth Announcement
Click here for Ari and Steph's Home Page
Email Ari: aribenjamin at comcast dot net
(replace at with @ and dot with .)